Membership and Stewardship
Here you will learn about how you can join and support the parish with your time, talent, and treasure.
At this time your continued support is especially important. To make a pledge payment, or make a one-time gift or offering, click here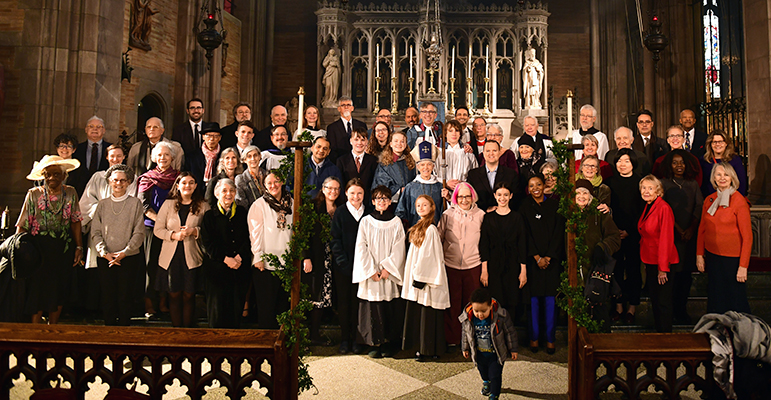 Stewardship 2022
Membership in the parish entails means being regular in your attendance at worship and making a gift of support to the church, usually through a financial pledge. Your regular pledges to the church allow us, among other things to buy supplies, make repairs to the building, pay our share to the diocese, and, most importantly to pay our staff, so we can have beautiful worship and music, education programs, outreach ministries, and provide pastoral care for you, our members.
We have now launched our 2022 Stewardship Campaign. This is much earlier than we have done for many years and reflects the needs of our current financial situation. The continuing Covid-19 emergency and its financial fall-out make our ability to budget for theupcoming year challenging. In order to ensure we can continue our ministry and programs and create a realistic budget it is essential that we have your firm commitment to support the church in the coming year as early as possible.
Once again we are conducting our every member canvas for Annual Stewardship and to check in with you about the Capital Campaign.
Both are critical to the life of our community and we hope that everyone who has pledged in the past will make a commitment to both and hope that if you have never before made a formal pledge that you will seriously consider doing so.
Everyone who regularly participates in the life of the parish should expect to hear from someone about Annual Stewardship and the Capital Campaign.
Read the Stewardship Brochure here
You can make your 2022 pledge online here
Click here for a downloadable pledge card and direct debit instruction
Click here to pay your pledge and set up monthly payments with PayPal here.
Saint Ignatius at 150 Capital Campaign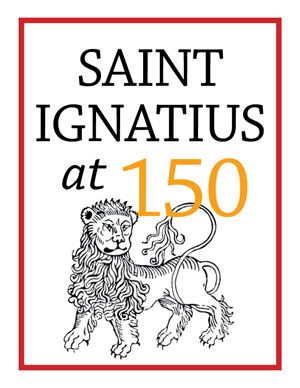 We have launched our milestone Capital Campaign: Saint Ignatius at 150 with a goal of $625,000 to make a generational investment in our historic building and our community's financial health. We continue to welcome your pledges. For information visit:
Saint Ignatius at 150 campaign website
Our work of stewardship is anchored in prayer and we ask you to pray with us,
Almighty God, who hast promised to hear the petitions of those who ask in thy Son's Name: We beseech thee mercifully to incline thine ear to us who have now made our prayers and supplications unto thee; and grant that those things which we have faithfully asked according to thy will, may effectually be obtained, to the relief of our necessity, and to the setting forth of thy glory; through Jesus Christ our Lord. Amen.
Membership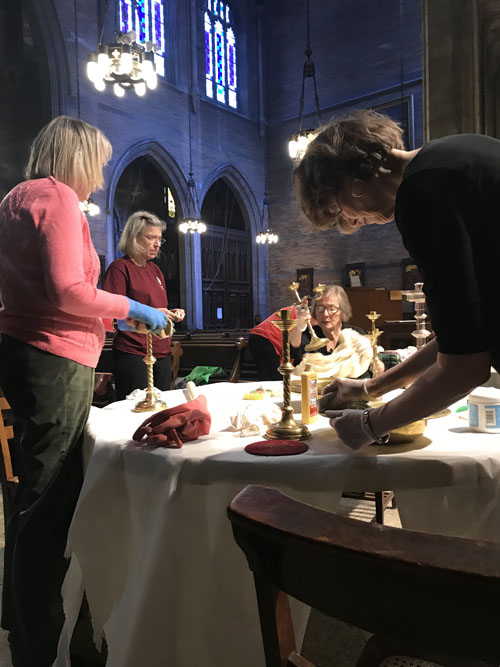 You do not have to be an official member of the parish to worship at Saint Ignatius. Everyone is welcome to worship with us and all Baptized Christians are welcome to receive the Sacrament of Holy Communion.
Membership in the parish, however, is a wonderful way to strengthen your relationship with your neighbors and with God.
As a member of the parish you are making an intentional commitment to be part of something larger than yourself, to be a part of a Christian Community, united in our love of God and God's love for us even though we may come from very different places.
Membership in the parish is a way of formalizing your spiritual discipline of Stewardship to which God in Christ calls each of us daily. Stewardship is the practice of caring for the bounty of Creation and the gifts of creativity and life which God has bestowed on each of us. As such, Stewardship should involve the giving of our time, talent, and worldly possessions.
The parish receives no financial assistance from the Episcopal Church on either the national diocesan level. In fact, we contribute to both the National Church and the Diocese! We are funded to a large extent by the financial contributions of our members and the more we receive in pledge income the better we are equipped to serve the needs of our community. We very much hope that all those who decide to make Saint Ignatius their parish home will become members, contributing financially, as well as with their gifts of time and talent.
Joining an Episcopal Church is very easy, and Saint Ignatius is no exception. All you have to do is come regularly and make a financial pledge. The amount of that pledge is itself up to each individual. What is most important is that you make a commitment to share with others the gifts that God has given you in proportion to your income and means, and that you reexamine the level of that commitment regularly, again as part of your spiritual practice.
You can pledge on line here or download a pledge card here.
Information about ways to give of your time and talent can be found here.
Membership is a requirement for voting in the annual parish meeting, serving on the Vestry, for election as a delegate to Diocesan Convention, and for participation in some church programs. We also expect that at least one member of a couple wishing to be married in this parish church be a member.
Frequently Asked Questions about Annual Stewardship
Why should I pledge?
There are spiritual and practical reasons to pledge.
Spiritualy, because stewardship concerns our relationship with God; it helps us understand that those things we call possessions are really ours in trust; that we are called to use those possessions in the service of the advancement of the Kingdom of God; and it allows us the chance to experience the joy that comes from sharing what we have been given and offering it back to God.
Practucally, because your pledge helps pay for the expenses of our church, including our worship, pastoral care, and outreach ministry.
How much should I pledge?
We recognize that each of us has many competing demands on our money. We also recognize that many of us already give to a variety of organizations. Usually we give more to those organizations that mean the most to us and have the greatest need. When we give to those people and organizations about which we care, our giving usually involves some measure of sacrifice. We hope that you will give generously to your parish family. We hope you will think and pray about this as part of your own spiritual practice of sharing what you have been given with others. In the end the number is not as important as your giving in a way that is proportionate with your means and ability.
How do I pledge?
You can fill out a pledge card on line or on paper (available at the back of the church, or online here) and either mail it back to the church or drop it in the offering plate on Sunday. Or hand it to an usher, or slip it under the office door. It will all get to the same place.
How can I pay my pledge?
You can remit your pledge in any way that is convenient for you. You can pay in a lump sum. You can pay quarterly, monthly, or weekly. We especially encourage those of you who wish to spread your pledge throughout the year to use the direct debit option. Your payment will be taken directly from your bank account every month. This way we can be assured of the important revenue to meet our expenses and you don't have to worry about remembering to write us a check. You can also use offering envelopes to pay weekly at mass.
I can never be sure what to pledge so I just put money in the offering plate each Sunday. Isn't that good enough?
It's good, but, it could be better. The church cannot be as flexible about its expenses. We need to budget and to plan. So, think about what you might normally put in the plate - or what you have normally put in the plate over the years - and write it down in the form of a pledge. This is also the easiest way for us to count you as a member in good standing.
When is my pledge due?
This year we hope to have all our pledges back by the end of October. This gives us time to incorporate your pledges into the final draft of the budget, which the vestry passes at its December meeting.
I prefer to pledge anonymously.
The amount you pledge will always be kept strictly confidential, with that information available only to the Churchwardens, and Rector, along with Treasurer, who must keep accounts, and the Stewardship Chair, who must raise the money. The fact that you have pledged, however, is part of the open record of the church, and is useful additionally for measuring the growth of our church community, representing to the Diocese the degree of involvement of parish members, etc. We want you and all of us to be counted as faithful parishioners of Saint Ignatius and we will make a record of that again this year in the weekly Sunday bulletins this year as pledge cards are returned.
Annual Reports