Parish History Notes:
Charles Frederic Zabriskie
March 14, 1848 - April 20, 1914
"When it was decided that we should move uptown, he took the keenest interest in the building of the new church, this present structure. He had fine business intelligence, and was in every respect of conservative temperament, not permitting his sound judgment to be carried away by enthusiasm. He realized perfectly the heavy financial responsibility we were undertaking in our large outlay for the new church, yet he never advocated any economy of construction which would make the fabric less glorious, less worthy of its high purpose. In the many matters which I took to him for decision while we were building, when it was a question which of alternative courses should be followed, just so soon as I could show him that this thing or that made for the worthiness of the sanctuary, and the dignifying of the worship therein, he wanted it, though it were much more costly than that which might have been substituted for it. I could not easily enumerate the many ways in which his freely offered financial help enabled me to make the building the glorious shrine that it is. One who worships regularly here grows so familiar with all the exquisite and fitting accompaniments of our service that he easily overlooks the loving thought and munificence which provided them. And while there have been many and most worthy memorials placed in the building by different parishioners, none has given more largely nor more unselfishly just to glorify God's house, than Charles Frederic Zabriskie."
- Fr. Arthur Ritchie, A Lover Of God's House, sermon preached at Charles Frederic Zabriskie's funeral, April 26, 1914
The Zabriskies were an old and established Middle Atlantic family descended from Albrecht Zabriskie, who came to America in 1662 from Holland and settled in New Jersey. Christian A. Zabriskie, an early investor and executive in the insurance business, was Charles Frederic Zabriskie's grandfather. Christian Zabriskie, Jr., Charles Frederic's father, was a merchant of prominence in New York and amassed a considerable fortune in his lifetime. Christian was also a vestryman of Christ Church and was one of several parish leaders who followed Dr. Ewer to found St. Ignatius in 1871. He was Junior Warden when he died in 1886. Charles Frederic's mother, Jeanette Suzette Lemaire, was the daughter of John Lemaire, a noted sculptor who was the chief carver on New York's City Hall. Jeanette preceded her husband in death by only five months.
Upon his parents' death, Charles Frederic inherited a substantial estate which enabled him to live comfortably as a financier, free from the burden of earning a living. This enabled him to devote his life to his family, the art of photography and the building of St. Ignatius. He also assumed his father's duties as junior warden of St. Ignatius and later became senior warden, a post he held for 25 years. To honor the memory of his parents, Charles Frederic donated the statutes of Our Lady and St. Ignatius which adorn the current sanctuary and were also in the old church on 43rd Street. Although it is not engraved with any name as are the other two statues, the Statue of St. Michael in the Sanctuary was most likely also donated by him to honor the memory of his older brother, Lemaire, who had died of typhoid in 1866 while working as a doctor at Bellevue Hospital.
Jeanette Suzette Lemaire Zabriskie and Christian Zabriskie, Jr.
In 1883 Charles Frederic married Minnie Burt Rogers, the daughter of a prominent Manhattan businessman. Their first child, Anita Louise, was born in 1885. A second child, Charles Lemaire, was born in 1893. They lived on West 33rd Street until they bought a townhouse in 1895 on the recently fashionable Upper West Side at 37 West 75th Street. Several other members of St. Ignatius had also moved to the neighborhood and when the search began for a space on which to build a new church it was only natural that they sought a location close to home, finding an ideal plot of land at 87th Street and West End Avenue. As evidenced in the sermon Fr. Ritchie preached at his funeral, which was also the last sermon he ever preached at St. Ignatius, having retired due to ill health a few weeks previously, Charles Frederic's financial generosity and fine artistic sense contributed immeasurably to the beautiful church we cherish today.
Charles Frederic in his New York apartment
After Charles Frederic's death in 1914, his family continued to be active at St. Ignatius. His son, Charles Lemaire, took his place on the vestry and was for many years clerk of the vestry. His carefully typed minutes are an invaluable insight into the years from 1914-1927. Charles Frederic's daughter, Anita Louise, was an important member of St. Raphael's Guild and the Women's Auxiliary for 25 years. His wife Minnie financed the carving of the credence table in the Lady Chapel in memory of Charles Frederic and also the bronze handrails that once adorned the entrance to the church.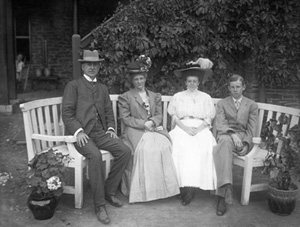 Charles Frederic, Minnie, Anita Louise and Charles Lemaire Zabriskie
at their summer home in Cooperstown, New York
Charles Frederic's contribution to the art of photography has been well documented in a thesis written by Charles Sachs (1982). This thesis came to our attention in May of 2003 when Christiane Hyde Citron, the great-granddaughter of Charles Frederic, visited St. Ignatius while in town for the funeral of her mother, Anne Louise Zabriskie Noble, held at St. James Church, where Lemaire's daughters and granddaughters had been members for many years. In subsequent correspondence with her, two visits to Cooperstown to view the collection and obtain copies of several of the photos, as well as an interview with Chris last summer in Denver where she now lives, this fascinating connection to our history has come to light. It is our hope that someday soon the exhibit of 65 of his photographs which was shown in Cooperstown in 1997, entitled The Joy of Photography, may be brought to New York so that Charles Frederic's work may enjoy the wider audience that it surely deserves.
Charles Frederic began taking and developing pictures in the 1880's and took over 10,000 images before his death in 1914, although only around half that number still exist. He took most of his pictures in and around Cooperstown, New York, where he had a summer home for many years. He developed almost all of the photos himself in his darkrooms at Cooperstown and New York and spent the winter printing the photos in his New York apartment. He owned around 80 cameras and spent an enormous amount of time photographing scenes and people around Cooperstown, experimenting with light, equipment and various techniques and then processing the glass plates. At the time, the process of developing photos involved very harsh chemicals and it was the constant exposure to these in enclosed spaces that most likely contributed to his various severe illnesses and untimely death at the age of 66, although he had been plagued by ill health for most of his life. Indeed, according to his biography, it is no small wonder that he was able to produce the enormous amount of marvelous photographs that are preserved in a collection of 27 volumes at the Fenimore Art Museum in Cooperstown, donated by his son, Lemaire, in 1946. A 1994 article written by Daniel Fink elaborates on his importance to the history of photography.
Charles Frederic also took a series of photos of St. Ignatius in the early years after its construction. The glass plates of these photos were discovered in a high storage shelf in the undercroft in the winter of 2004 along with the negatives and matte framed prints of several of them which had been made some years later. The negatives fortunately provided the means to develop the photos easily into a digital format.
A wonderful series of photos of Fr. Arthur Ritchie taken during a visit he made to Cooperstown in the summer of 1900 were also included in the collection at the Fenimore Art Museum, and digital copies of these were also recently made.
- written by Marie Postlewate, March 2007, with thanks to Christiane Hyde Citron, Charles L. Sachs and the Fenimore Art Museum, Cooperstown, New York.